Our payment solutions are all 100% secure
---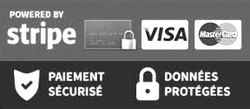 Payment secured by debit card
After validating your order, you automatically switch to the secure servers of our banking partner Stripe.
All information exchanged to process the payment is encrypted using the SSL protocol. This data can not be detected, intercepted or used by third parties.
Nor are they stored on our computer systems. We never have access to it.